Environmental Protection
Environmental Protection Management Policy
Arcadyan commits the business principle of respect for life, deeply recog-nizes the limited resources of the earth and the importance of sustainable development, declares the implementation of environmental, safety and health management system, and integrates it into the entire management system. In business activities, Arcadyan understands the interrelationship between the manufacturing process, products and the environment, and promises to continuous improvement, to establish a safe, healthy and safe environment to achieve the goal of sustainable development.
Comply with environmental safety and health regulations and effec-tively implement the environmental safety and health management system.
All employees participate in product ecological design and pollution prevention to establish a safe, health and safe environment, and are committed to continuous improvement of sustainability.
Continue to promote resource recycling and industrial waste reduc-tion, and reduce the impact of carbon emissions in the supply chain.
Strengthen employee education, supplier and contractor manage-ment, environmental safety and health training.
Automatically check, eliminate unsafe actions and the environment, take the initiative to prevent occupational accidents and avoid accidents.
Health management to maintain employee health, safety and zero disasters.
Greenhouse Gas (GHG) Management
Arcadyan always cares about global environmental changes, including related agreements actively promoted by various countries, such as the Kyoto Protocol, the United Nations Framework Convention on Climate Change (UNFCCC), the Paris Agreement, and Product energy-saving requirements of United Nations treaties and other regulations. Arcadyan has been actively partici-pating in the Carbon Disclosure Project (CDP*) since 2009 to reduce operating risks and costs, and to further transform various risks into green circular economy business opportunities to improve corporate management continuity.

Green Product
Waste Electrical and Electronic Equipment Directive, WEEE
In the design stage, Arcadyan considers customer needs, waste reduction, resource reuse, applies envi-ronmentally friendly materials and low-polluting alternative materials, and introduces a design model that reduces the use of natural resources and increases recycling.
Restriction of Hazardous Substances Directive, RoHS
In 2015, the European Union issued a directive (EU) 2015/863 in the official ga-zette, officially listed 4 phosphonates (DEHP, BBP, DBP, DiBP) into the control list. As the harmful effects of waste electronic and electrical products on the environment are increasing, all Arcadyan's products are 100% compliant with the limits required by RoHS (2011/65/EU) directive, and there is no return due to violations of hazardous substances restriction directives.
Taiwan RoHS
Arcadyan officially passed BSMI certification in 2018 and obtained Taiwan Commodity Safety Mark. According to the status of each product to provides "Declaration of Restricted Substance Containment Status" for the purpose of applying for the BSMI certificate.

Halogen-Free
In the face of international organizations' advocacy of "halogen-free parts and processes" and customers' more active environmental requirements, Arcadyan upholds the design of reducing environmental impact and reducing human hazards, and clearly defines halogen-free in the relevant regulations on the management of environmentally-related controlled substances in parts and raw materials. The chlorine and bromine content in products are restricted and controlled, and the production capacity of halogen-free products will be gradually established. In recent years, as major brand customers are moving towards a completely halogen-free environmental protection specification, Arcadyan will continue to de-velop environmentally friendly products and accelerate the replacement of halogen-containing materials according to market trends.
TUV Green Mark
Arcadyan sells Deutsche Telekom products applied for TUV Green Mark of TÜV Rheinland in 2018, ob-tained the green label and carbon footprint certifi-cate to implement energy efficiency test to meet the requirements of the regulations for low-energy products, and meets the entry regulations of Euro-pean countries. Product testing and certification in compliance with relevant energy regulations not only ensures that goods enter the target market, but also enhances consumer trust.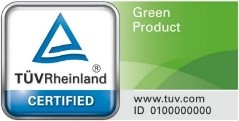 Disposal and recycling
With the progress of the times, the life cycle of consumer electronic products is getting shorter and shorter. While innovations are stimulating consumption, the increasing number of waste electronic products has gradually become a burden on the envi-ronment. Arcadyan not only recycles the discarded plastic housings of institutions into new raw materials. In 2020, more than 8,000 products were refurbished by RMA (Return Merchandise Authorization) department. The defective products will be re-paired or reassembled to restore the products to good condition and extend the life of the products.